Bill Fry the Plumbing Guy wants to provide help for some of you less handy folks out there. Maybe you don't want to have your plumber on speed dial, and you really would rather skip that water line replacement in Lee's Summit this year. We know what happened. You heard that horrible story about the time your neighbor decided to do his faucet replacement and then flooded his whole house.
You don't have to worry about needing an entire sewer line replacement in Lee's Summit if you learn about a few common plumbing problems that can be solved with a toolbox and a little effort. Of course, these projects are still better left to a professional plumber, but you can give them a college try. Bill Fry the Plumbing Guy, wants you to become acquainted with the little things so he can help you with big projects like water line replacement in Lee's Summit.
Here's what you need in your plumbing toolbox:

Plunger
Screwdriver
Adjustable wrench
Pliers
Plumbing tape

Quick Tips:

Locate the main water shut off in your home
Don't overtighten fittings
Wear appropriate clothing
Taking preventative action is just as important as learning how to unclog the drain. We recommend using hair catchers for your shower drains. If you have a lot of debris caught in your drains, mix together baking soda and vinegar and pour it down for a natural solution.
This is a common problem that can be overlooked from time to time. You can juggle the handle to make it stop, but that is just a temporary fix. Some causes of a running toilet could mean a faulty valve or floater switch. To fix that, carefully remove the lid, and place it in a safe spot. You will see a large bulb inside, which is the part you need to replace.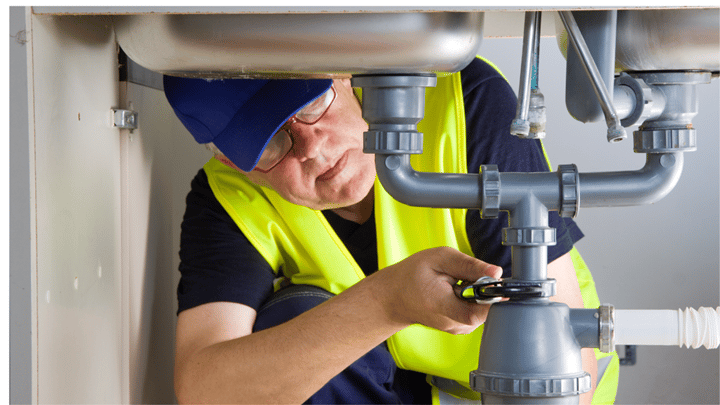 Low Water Pressure
Don't you hate it when you barely have any water coming out of your faucet? When you have low water pressure, you should check if both the hot and cold water are affected. If they are, this is probably the aerator in the facet that has calcium deposit built up inside. A blocked aerator is easy to fix. You have to take the part out and clean it with vinegar.
Call the Professional
A hidden water leak can cause significant damage to your home. Whether you need repairs or a complete water line replacement in Lee's Summit, Bill Fry the Plumbing Guy is here to help. Bill will diagnose any issues with your water lines and make the necessary repairs.
After thoroughly evaluating the issue, he will determine if you need a water line replacement and then install a new water line if that's the best course of action.These are a few fixes you can try yourself, but if you get stuck, call in the professionals before things get crazy and you need a whole sewer line replacement in Lee's Summit.
---
Just Call Bill. Bill Fry is a master plumber in the Kansas City Metro area offering a wide range of plumbing services. These services include water heater replacement in Lee's Summit, tankless water heater installation, water heater repair in Lee's Summit, water treatment and testing. If you have toilet troubles, Bill offers toilet replacement in Lee's Summit along with interior and exterior faucet installation and repair, sump pump testing, backflow testing, and radiant heating.

If that wasn't enough, call "Bill Fry the Plumbing Guy" for garbage disposal installation in Lee's Summit, drain line repair and sewer line replacement. He is your plumbing guru. Have a clogged drain or leaky faucet? Bill Fry has you covered; he also provides services with his advanced equipment to fix those issues.
---
If plumbing is the question? Just ask Bill. He has 25 years of experience in the industry. Give him call at 816-828-2455 or email him

[email protected]

.